106
From CowleyRoad.org
This is the page for 106 (and 108) Cowley Road.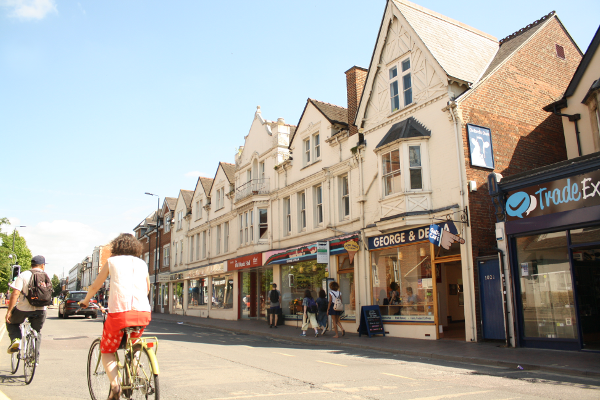 2005 - Present
This is The Old Music Hall, an office complex for NGOs, social enterprises and charities is run by the Ethical Property Company, whose head office it is. They acquired the building in 2005[1]. It is now home to over 40 occupants including the New Internationalist media co-operative, People & Planet student campaigning organization and Agile co-op web agency. At the rear of the building is a straw bale kitchen.
1950s - 1970s
Kelly's Directory 1975 to 1976 D & A Fashions Ladieswear Nos 106-110. This is visible in a photo of 1974 in Malcolm Graham & Lawrence Waters' "Cowley and East Oxford Past and Present" which shows the right hand end as "Toytique". In 1975 Dennis Brown, owner of D & A Fashions was fined £5 for displaying an indecent jeans patch in his window.[2]
Kelly's Directory 1972 to 1973 Nos 106 to 110 Oxford Illustrators, publishers
Kelly's Directory 1970 to 1971 No 106 Oxford Illustrators, publishers
Kelly's Directory 1962 to 1970 No 108 Kemp Hall Bindery
Kelly's Directory 1967 to 1969 No 106 Loose Covers
Kelly's Directory 1964 No 106 Willgard Ltd, domestic electrical appliances
Kelly's Directory 1956 to 1960 No 106 Kemp Hall Bindery
Kelly's Directory 1952 to 1960 No 106 Your Shop Window Ltd antiques
Klly's Directory 1952 to 1958 No 108 John Gowing jeweller
1938
Blackwells book shop acquired the premises in 1938[3] and converted it to offices and a book store.
1932
Kellys Directory 1932 No 106 was the Palace Picture House and 108 was Horace Pocock, confectioner[4].
1890s-1900s
The East Oxford Constitutional Hall appeared in Kelly's directories at No 106 from 1890, (or rather it only became No 106 in 1893 when the Cowley Road was completely renumbered), soon being joined by the Free Reading Room and the East Oxford Conservative Club, and joined in 1903 by the Empire Theatre, next called the Oxford Theatre and the Oxford Hippodrome (1911), and then the Palace Picture House (a cinema) from 1913 to 1937.
The building was constructed in 1898 as a public hall, library and three shops [5].According to Malcolm Graham in "On Foot In Oxford No.12 East Oxford" (1987) it was built 1889-90 (architect H W Moore). It was financed by G H Morrell, the Oxford brewer and owner of Headington Hill Hall (now part of Oxford Brooles University). The City's ruling Liberals saw the scheme as a conspiracy to improve the Tories' local standing, and, when Morrell offered the reading room as a City branch library, rejected it because "Neither Liberal nor Conservative can much like to repair to the headquarters of his enemies to read his morning paper".
An article in the Oxford Mail claims that
"the building at 106-108 Cowley Road dates back to 1896, when it was known as the Lyric Hall. It was renamed the Empire Theatre in 1900 before Frank Stuart reopened it as the Palace Picture House cinema in 1912."[6]
Before then?
Cowleyroad.org is a DIY community history - help us write it!
Do you know more about this business, or remember what was at this address before? Do you have any old photographs or memories to share? Please add them to the site! Here is a how-to guide.
References