47
Jump to navigation
Jump to search
This is the page for 47-49 Cowley Road.
2019-Present
Shiraz Persian restaurant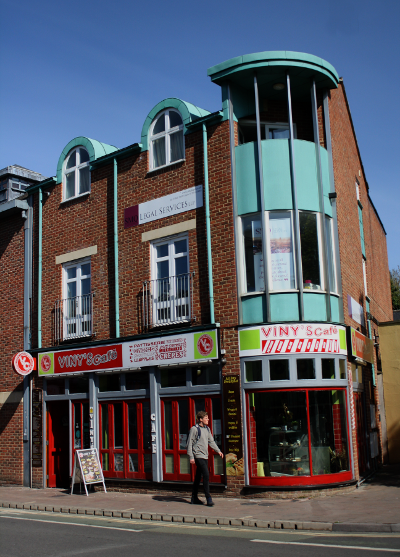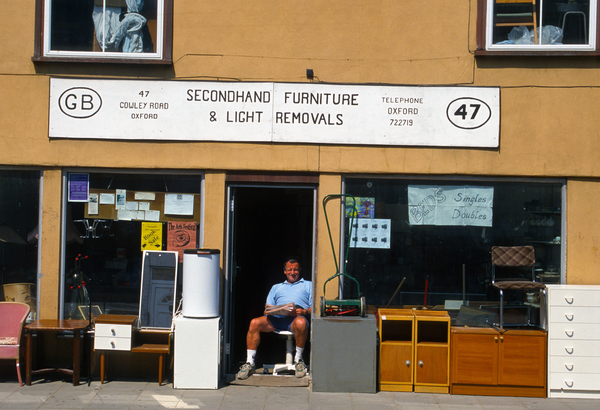 2017
After briefly being Avalona Pizzeria, this shop is currently closed Jan 2018.
This was Vinny's cafe, serving English & Egyptian breakfasts, sandwiches and coffee. SMQ Legal Services, a solicitors' firm, is also based at 47–49.[1]
 ?2015
A branch of the Coffee Republic chain operated here til it closed around 2015. In 2017, some of its fittings can still be seen including black and red tiles, and wallpaper featuring a larger than life black and white photo of models walking through a field.
1995
This was a secondhand furniture store (building now demolished). A photo by Martin Stott of the ?owner sat in the doorway is shown to the right.
1954 - 1976
Kelly's Directory 1954 to 1976 list 47 and 49 as F J Selwood & Son Corn Merchants
A photo from 1958 can be seen here.
1952
Kellys Directory 1952 Nos 47 & 49 Pets & Gardens, budgerigar specialists (Mrs R Smith)
Before then?
Cowleyroad.org is a DIY community history - help us write it!
Do you know more about this business, or remember what was at this address before? Do you have any old photographs or memories to share? Please add them to the site! Here is a how-to guide.
References