7
From CowleyRoad.org
This is the page for 7 Cowley Road.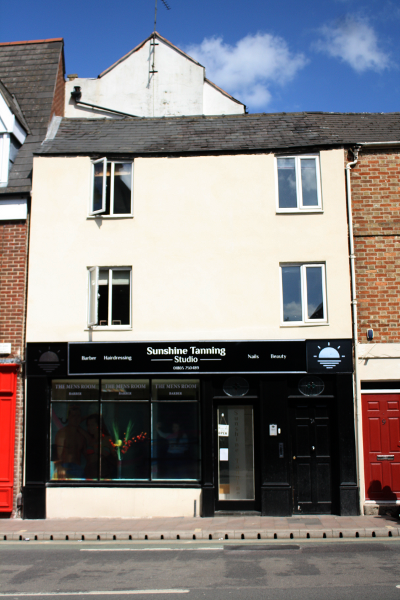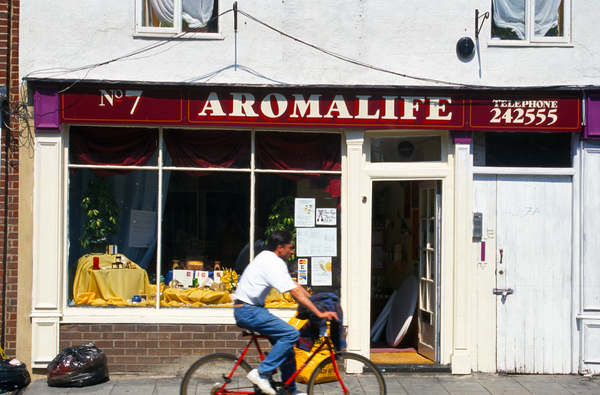 Since 2017
There was a failed attempt to open 'Sunshine Tanning', a tanning studio on the ground floor and a nail bar in the basement. It was only operational for a few months and closed again in 2018. The shop front then had to be completely redone since the plywood used by the tanning studio was not fit for outdoor use. Currently, the shop is up for rent.
2016
For some years this was The Mens Room barber shop, now closed. See Isolarion by James Attlee "Purification". Thomsons Directory 1999 No 7 The Mens Room
1990s
It was 'Sweet Charity', a charity clothes shop, during the 1990s. A photo of the interior from April 1994 is in Marilyn Yurdan's "The Changing Faces of the Cowley Road". Thomsons Directory 1988 and 1995 list Sweet Charity as No 7.
No 7a (same as No 9?)
There appears to be some confusion over exact address and business names at this number.
A 1995 photo by Martin Stott is shown to the right, with the business name AromaLife.
Thomsons Directory 1991 No 7a G Bloch Gowns
Kellys Directory 1973 No 9 S Ford shoe shop
Kellys Directory 1960 to 1967 No 7a Bloch Gowns
Kellys Directory 1956 to 1958 No 9 Bloch Gowns
Kellys Directory 1954 No 9 Arthur Pike watchmaker.
1974
Kelly's Directory  1972 and1974 Indian Emporium. A photo of April 1976 shows the shop had moved to 55 High Street.[1]
1950s & 1960s
Kellys Directory 1960 to 1964 No 7 P J O'Leary confectioner
Kellys Directory 1954 to 1958 No 7 Bert Long confectioner
Kellys Directory 1952 No 7 T J Fitzgerald confectioner & greengrocer
1932
Kelly's directory of 1920 and 1932 list the shop as Charles Dance, fruiterer.
Before then?
Cowleyroad.org is a DIY community history - help us write it!
Do you know more about this business, or remember what was at this address before? Do you have any old photographs or memories to share? Please add them to the site! Here is a how-to guide.
References
↑

Marilyn Yurdan