100
From CowleyRoad.org
This is the page for 100 Cowley Road.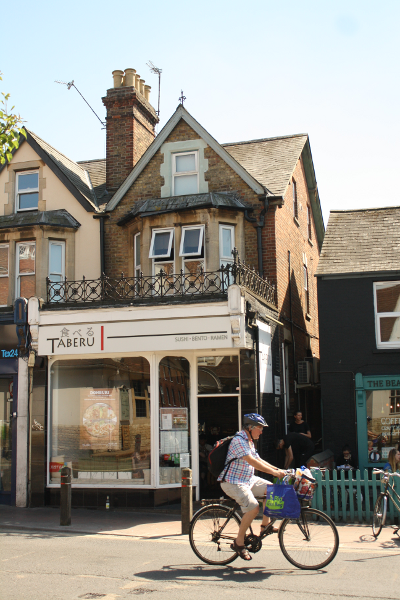 ?Date - present
This is Taberu Japanese restaurant.
2009
A T Box Oriental Café
1990s - present
Stella Campion, The Workshop No 100a. Silversmith &c
Thomsons Directory 1991 S Campion, The Workshop No 102
Forewords bookstore No 100a fairly recently
Thomsons Directory 1988  and 1998 No 100a Jackson & Dennett, bookbinders
1980s - 2002
Yellow Pages 1979 and Thomson's Directory 1981 to 2002 Pak Fook chinese restaurant
1940s - 1970s
Kelly's Directory 1976 No 100 Business Service Centre, office equipment supplies
Kelly's Directory 1964 to 1976 No 100 The Treasure Café
Kelly's Directory 1960 to 1962 No 100 G W Hawkes, café
Kelly's Directory 1952 to 1958 No 100 A W Alexander tea rooms
Kelly's Directory 1943 No 100 Mrs M Hansell tea rooms
Before then?
Cowleyroad.org is a DIY community history - help us write it!
Do you know more about this business, or remember what was at this address before? Do you have any old photographs or memories to share? Please add them to the site! Here is a how-to guide.
References