105
From CowleyRoad.org
This is the page for 105 Cowley Road.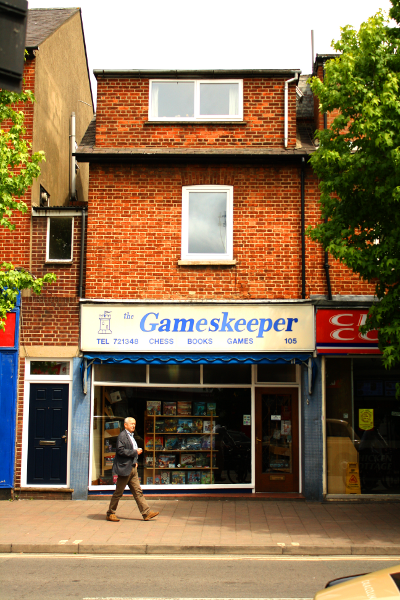 1981 - present
This is the Gameskeeper specialist game shop. They sell boardgames, role-playing games, miniatures games and other traditional hobby games such jigsaws and chess sets.
It was established in 1981 by wife and husband team Carol and John Benney and is one of the oldest hobby game shops in the UK.
Sadly, John Benney passed away at the beginning of 2017 and in November 2017 Carol Benney retired [1] and sold the business to Toby Silverstone [2].
1960s - 1970s
Kellys Directory 1971 to 1976 & Yellow pages 1979 Linfoot & Lambourn TV rentals
Kellys Directory 1958 to 1970 Television Services Ltd rentals
Before then?
Cowleyroad.org is a DIY community history - help us write it!
Do you know more about this business, or remember what was at this address before? Do you have any old photographs or memories to share? Please add them to the site! Here is a how-to guide.

Kelly's Directory 1976 No 105 Linfoot & Lambourn Ltd, TV rentals. Also in Thomsons Directory 1981.
References