156
From CowleyRoad.org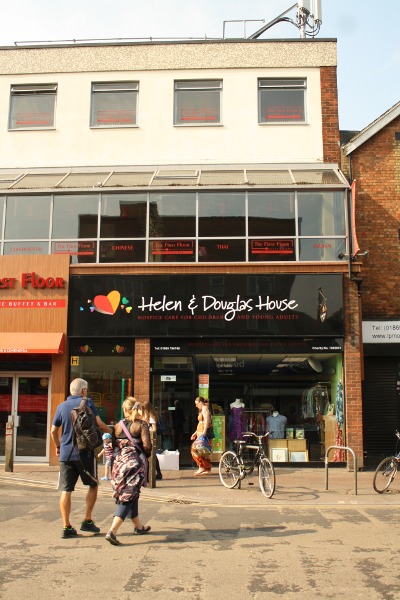 This is the page for 156 Cowley Road.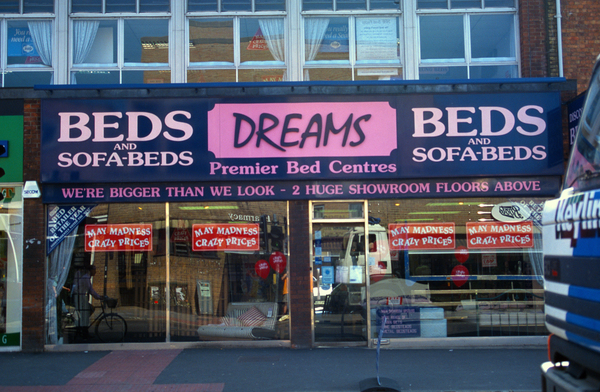 ?Date - present
This is Helen and Douglas House charity shop.
2004
East Oxford Action used the empty furniture store at Nos 156 to 158 as their public consultation shop for the Cowley Road Matters design, which is responsible for the present curving pavements outside Tesco's. See Clare Symonds' paper "Cowley Road Matters; Community Transport and Road Design" (2005) and a photo here[1]. From a photo on page 48 of Annie Skinner's "Cowley Road A History" (2008) it appears that Orinoco the Oxfordshire Scrap Store was also located there
1960s -1990s
Thomsons Directory 1999 to 2003 No 156 Sketchley Cleaners
Thomsons Directory 1984 to 1991 No 156 to 160 Sketchley Cleaners
Kellys Directory 1966 to 1976 Nos 156 to 160 Sketchley Cleaners

Thomsons Directory 1991 No 156 Dreams Ltd - A 1995 photo by Martin Stott is shown to the right.
Thomsons Directory 1988 No 156 Modern Furniture
Thomson's Directory 1981 & 1984 No 156 Nu-Homes (Oxford) Ltd, house furnishers
Kelly's Directory 1964 to 1976 Nos 156 and 158 Nu-Homes (Oxford) Ltd, house furnishers
1950s
Kellys Directory 1952 to 1962 Nos 158 to 160 C Clayton chemists
 
Before then?
Cowleyroad.org is a DIY community history - help us write it!
Do you know more about this business, or remember what was at this address before? Do you have any old photographs or memories to share? Please add them to the site! Here is a how-to guide.
References