213
From CowleyRoad.org
This is the page for 213-215 Cowley Road.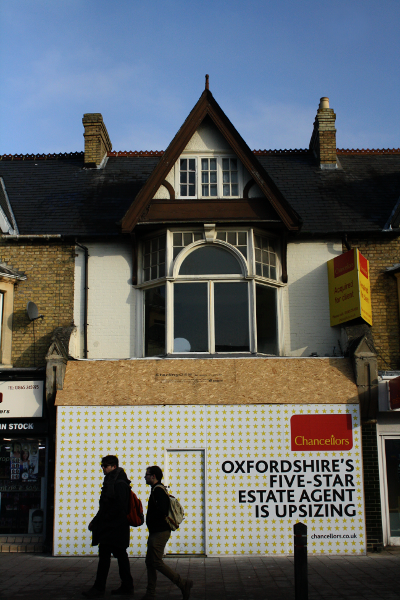 2017 - present
In early 2017, the former nightclub at 213 Cowley Road was knocked together with number 215 to form a single shop unit. Chancellors estate agent, which for some time had occupied 215, now occupies both units.
 ?1999 - ?date
Number 213 was the Baby Simple night club, previously called Bar Baby. In November 2003, Emily Higson, a 22 year old Oxford Brookes student, was killed by a police car as she crossed the road coming out of Bar Baby. The driver was cleared of killing by dangerous driving at Aylesbury Crown Court the following October,[1]
Thomsons Directory 1999 No 213 Baby 2010 Baby Simple
Thomsons Directory 2006 to 2010 South Caribbean Cuisine & Roti Shop
 
1970s - 1990s
Thomsons Directory 1991 Oxford Visual Centre Ltd, and Hinton Chaundy Design Partnership and Wiles Graphic Centre
Thomsons Directory 1984 & 1988 Oxford Graphic Centre
Thomson's Directory 1981 Photographs and All That & Elliott Brown Agency
Kelly's Directory 1972 to 1976 No 213 Goodwood Furniture Bargain Centre
Kelly's Directory  1970 No 213 Limelight Space-fitta Centre fitted furniture specialists
Kelly's Directory 1960 to 1969 No 213 Chiltern Dry Cleaners
Kelly's Directory 1954 to 1958 No 213 United Yeast Co Ltd, yeast merchants
No 215

Kelly's Directory 1976 No 215 Everett, Masson & Furby (Hitchin) Ltd business transfer agents
Kelly's Directory 1943 to 1972 No 215 Pearl Assurance Co Ltd
Before then?
Cowleyroad.org is a DIY community history - help us write it!
Do you know more about this business, or remember what was at this address before? Do you have any old photographs or memories to share? Please add them to the site! Here is a how-to guide.
References
↑

Times, 26 Oct 2004 page 8